Lavender & Herb Poached Salmon
Rita1652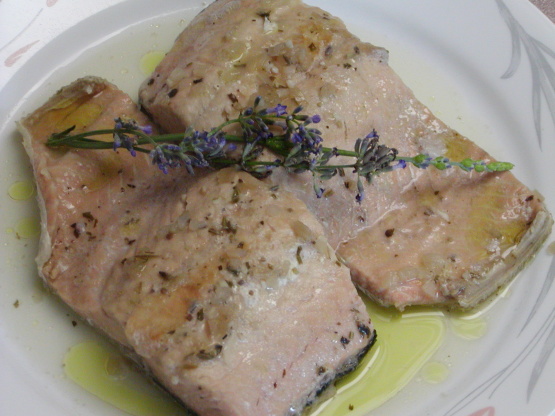 This recipe uses a French herb blend (herbes de Provence), which contains lavender. Adapted from a Penzey's recipe. I haven't tried this yet. The amount of sugar needed will vary with the type of wine you use - a sweeter wine will require less sugar. Very nice choice for a romantic dinner.

I used Troys Herbs de Provence #18565 and Heathers Delish Roasting Salt Blend for Veggies or Meats #93833 and my lavender sugar. I used half the fish and kept the rest of the ingredients as is. I poached the fish just at a simmer for 15 minutes. Very low and slow. I garnished with fresh lavender and drizzled olive oil on the salmon. Thanks Heather!
In a large enough skillet to hold the salmon pieces snugly, but without touching, add all ingredients except the salmon.
Heat the liquid for about 20 minutes, bringing it slowly to just below the boiling point (this is to allow the herbs to steep); poaching liquid should be fairly sweet.
Set the fish pieces skin sides upward into the hot poaching liquid.
If there is not enough liquid to cover the fish, add a bit more water& water in even proportions.
Cook 2-3 minutes, at which point you should be able to use a tongs to peel off the skins easily.
Continue poaching fish 15-20 minutes at high enough heat to keep the water just under a boil, or until fish is cooked to your liking (it should just start to flake when poked with a fork when ready).
Drain and serve garnished with some sprigs of fresh culinary lavender or a sprinkling of any fresh herbs you prefer.