Leslie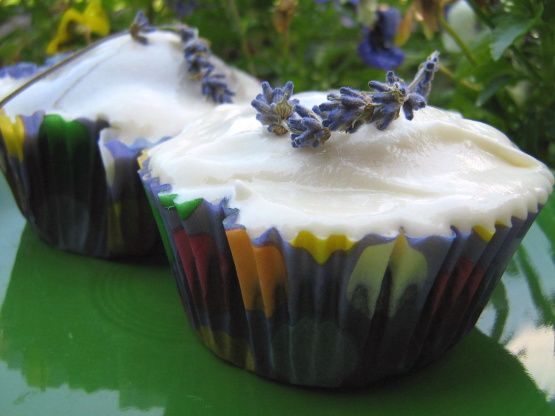 The lavender in these cupcakes is understated yet elegant and thoroughly unique. If the frosting part of the recipe does not appeal to you, you may substitute your favorite buttercream frosting instead.

I added a tablespoon of fresh ground lavender (which is why the frosting is green.) I also cooked it just a bit because I didn't want to eat raw egg (the little white bits in the frosting.) I really loved these because I like lavender. I wouldn't suggest people that don't like lavender or are "meat and potatoes" type people try these - I gave some to my parents and they said they tasted like perfume & shaving cream :-/
CUPCAKES:.
Preheat the oven to 350°F; line a 12 count muffin pan with paper liners.
Put the sugar and lavender flowers in a food processor. Process briefly to combine.
Tip the lavender sugar into a bowl with the butter and beat together until pale and fluffy.
Beat the eggs into the butter mixture, one at a time, then sift in the flour and fold gently. Stir in the milk, then spoon the mixture into the muffin cups.
Bake for about 18 minutes until risen and golden and a skewer inserted in the center comes out clean, then transfer to a wire rack to cool.
DECORATING:.
To decorate, gradually beat the confectioners' sugar into the egg white in a bowl, then add a few drops of food coloring and stir to achieve a lavender-colored icing.
Spoon the icing over the cupcakes, then top each one with a sprig of fresh lavender or candy sprinkles. Let set before serving.