Rita1652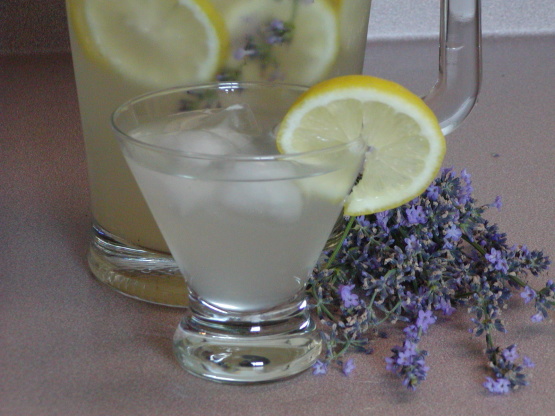 From Better Homes and Gardens, this is a refreshing drink everyone should try! Cooking time is approximate.

I make this every summer. But I make it into a "cooler" by eliminating the lemon juice. When the lavendar syrup has cooled, I pour about 1 " into a tall glass, and add Sparkling Water, or any carbonated water , plus some ice!! Refreshing drink !!!
3

cups sugar

3

cups water
1⁄2-3⁄4 cup dried lavender flowers

4

cups lemon juice

8

cups cold water
ice

1

sprig of spanish lavender or 1 sprig other fresh edible flower
In a medium saucepan combine the sugar and the 3 cups water.
Bring to boiling and reduce heat, stirring often, until the sugar is dissolved.
Place the lavender flowers in a large bowl.
Pour the syrup over the dried flowers.
Let stand for 2 hours or until cool.
Strain the syrup through a fine sieve, pressing on the flowers with the back of a wooden spoon to extract all the liquid.
Cover and chill for up to 1 week.
To serve, in a very large pitcher or crock, measure 4 cups of the syrup.
Add the lemon juice and 8 cups cold water.
Stir well to combine.
Serve over ice in tall glasses.
Garnish with sprigs of lavender, if desired.
Makes about 20 servings (6 ounces each).
Enjoy!