Rita1652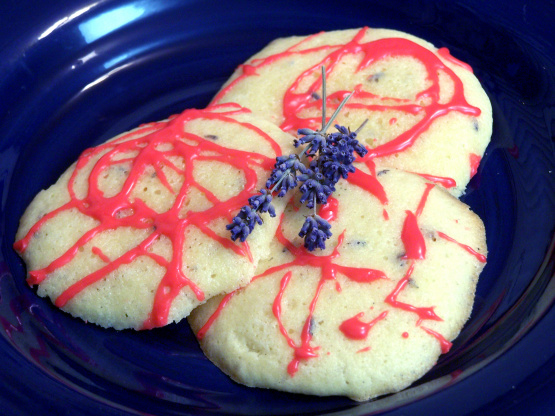 These are addictive! I used 1 1/2 teaspoons of lavender, I liked a little more of the flavor and I too used flowers instead of leaves. Just a hint, I found the lavender in the Hispanic grocery store near me in the aisle with the spices in small bags for less than $1!!
Preheat the oven to 375°F.
Put eggs, butter, sugar, vanilla, and lavender into blender and run on low until well mixed.
Sift flour, baking powder and salt into a mixing bowl.
Add other ingredients and stir until well blended.
Drop dough a teaspoon at a time onto ungreased cookie sheets.
Bake until lightly browned for 8 minutes.
Blend enough rosewater, red food coloring into the confectioners' sugar to make a smooth frosting.
Ice the cookies and let them set until frosting is firm.