Lavender and Vanilla Ice Cream
Rita1652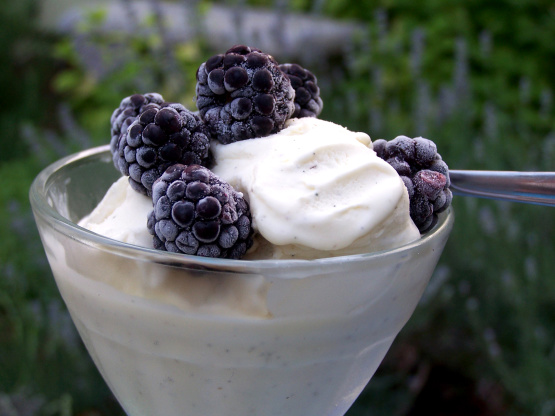 A wonderful vanilla based ice cream with lavender, which can be whipped up with ease in an ice cream maker! This ice cream is wonderful served with poached gooseberries and rhubarb, as well as an accompaniment to classic apple pies and crumbles.

Just finished churning this lovely, and absolutely delicious ice cream! I made this using Fresh dried lavender from French Tart herself. I placed 1/4 teaspoon dried lavender, a pinch of vanilla bean, in a blender along with the sugar using just over 1/2 cup blending till fine. Then add the egg yolks to the sugar and blended again. Adding to the hot milk. Which is just under a cup. 240 ml is 8 ounces or 1 cup. So as you expect I omitted the oil and extract because I used the real thing. ;) I find this to be very comforting and warming odd as that sound! A must try for you to understand! Thank you so much!!!!
Bring the milk slowly to boiling point in a saucepan.
Meanwhile, mix together the egg yolks and sugar until thick. Pour into this the hot milk with the vanilla extract, whilst continuously stirring.
Then pour the mixture back into the pan and heat gently, stirring until the custard thickens - do not boil or it will curdle.
When you can see a film form over the back of your spoon it's time to remove the saucepan from the heat. Leave to cool.
When the custard base is cold, stir in the cream and the lavender essence.
Transfer the mixture into an ice cream maker and freeze according to the manufacturer's instructions.
Store in the freezer for up to 2-3 months; bring to room temperature about 5 minutes before serving. Serve with poached gooseberries, rhubarb, apple pies and crumbles.