Lavender and Honey Salad Dressing

Store in in the fridge for up to 1 week. A nice marinade for fish or chicken.
Directions
Blend all ingredients together.
Stand for 30 mins to allow flavors to infuse.
Stir and adjust salt and pepper again and serve.
Reviews
Most Helpful
We really liked the flavor of this dressing although I have to give a disclaimer - I did not use lavender. I used to be able to buy it in the spice aisle, but they seem to have discontinued it and I could not find fresh anywhere. I like to cook with lavender so I am sure this would have only enhanced the flavor further. The dressing as it was was flavorful and light at the same time. Thank you Rita!

This was an excellent, sweet vinaigrette. I had it on a spinach salad. The lavender taste was subtle but distinctive. The poppy seeds/mustard/honey all mixed together gave the dressing a thick and slightly crunchy texture. Really impressive!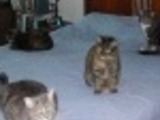 For those of you who are lucky enough to have a source of lavender...make this dressing! Never having cooked with lavender before, I wasn't sure if I would like the flavor, thinking that it might be too "flowery". We loved it... both my DH and I rating it 5*! All the ingredients blended together so that no one flavor dominated, except perhaps the honey, which I'll decrease a bit the next time I make this dressing. I served it on assorted baby greens, just drizzling a thin stream across the top and garnishing with roasted, chopped almonds. Rita...you are amazing!