Nif_H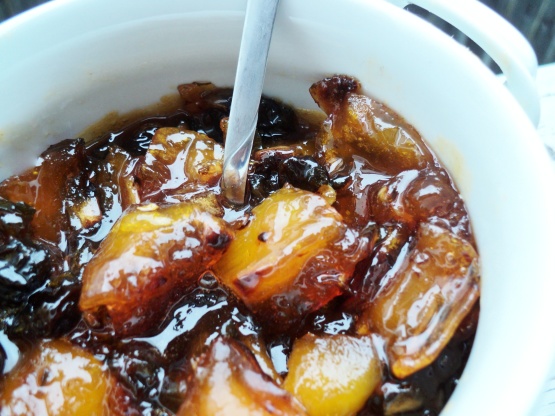 I've been making this chutney for years, and have adapted it to my own family's taste. I don't remember where I found this recipe, but everyone loves it. If you're a chutney lover you could almost eat it with a spoon! Especially great with Indonesian curries, beef and chicken alike! I hope you enjoy! Note: Peel mangoes with a vegetable peeler, and CAREFULLY cut the flesh away from the fibrous seed.

Amazing! My only regret is that we cut the recipe in half because that was all we needed for Recipe #164179 and mango's were expensive. Next time I'm definitely making the whole recipe. It has a fantastic taste, slightly sweet, but lots of spices and flavors. Thanks Chef PotPie! Made for ZWT8 trip to India.
Combine sugar and vinegar in a heavy pot and bring to boil. Add remaining ingredients and cook over medium heat till thickened, about 1 hour 15 minutes, stirring occasionally.
Cool and freeze in containers of your choice. I use 1 pint containers.