mis liz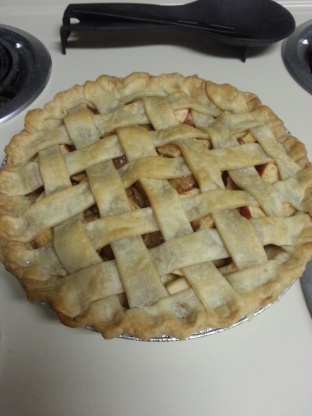 This is not only a great tasting pie, it is absolutely beautiful to look at and it will look great on the dessert table for the holidays.

I make this all the time and it is gone in one day or less. My family just loves it and I love to make it. It is a lot of work to do that lattice but it is great.
Preparing the crust:.
In a large bowl, mix together flour, sugar, cinnamon and salt.
Using a pastry blender or two knives, cut butter and shortening into flour mixture until coarse crumbs form.
Add water, 1 tablespoon at a time, tossing with a fork until a dough forms.
Divide dough in half; shape each half into a disk.
Wrap in plastic wrap; chill for 1 hour.
Making the filling:.
Place oven rack in lowest position.
Preheat oven to 400 degrees.
In a large mixing bowl, combine apples, sugar, cinnamon and nutmeg.
Assembling the pie:.
On a lightly floured surface, using a lightly floured rolling pin, roll half of dough into an 11-inch circle.
Fit into a 9-inch pie pan.
Spoon filling into pan.
Dot with butter pieces.
Roll remaining dough into a 10-inch circle.
Cut into 1/2 inch strips.
To form a lattice crust, arrange 2 dough strips in a cross pattern in center of pie.
Ends of strips should overlap edges of bottom crust.
Alternately weave strips into a lattice pattern until filling is covered.
Brush crust with egg.
Bake until crust is golden and filling is bubbly, about 40 minutes.