ajackson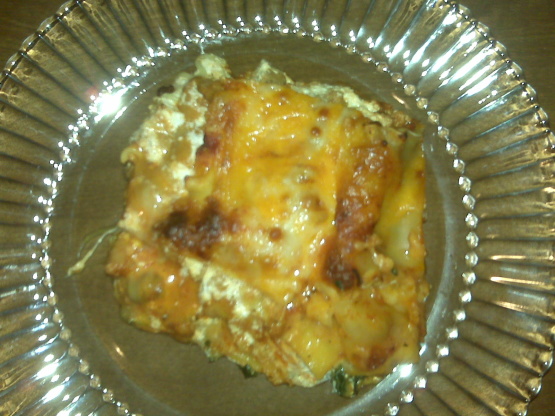 I really enjoy making this recipe and my husband enjoys the leftovers for lunch the next day. The meat sauce can be made ahead of time and even frozen for future use. Edit: I have changed the recipe slightly from original posting as I have been experimenting and have been able to make it firmer.

Top Review by ByNDii
I made this almost exactly to recipe, since I think I used about 400g of mushrooms LOL. My family and I love the things. And I also crumbled a beef stock cube amongst the beef while cooking, I like extra flavour. This was also my first time ever cooking lasagne!!! I was so proud of it, it turned out perfectly :D I'm just sad that it's not Winter, this isn't really a hot-day-food but I just had one of those cravings and couldn't help myself. Hehe, thank you for a great recipe :D
Cook noodles in large saucepan of boiling salted watter until tender, approximately 15 minute Drain Well. (Skip this step if using no-boil sheets).
Meat Sauce:.
Heat oil, add ground beef; cook until well browned; pour off excess fat.
Add chopped tomatoes with liquid from cans, peeled finely chopped onions, sliced mushrooms, crushed garlic, oregano, basil, rosemary, salt, sugar.
Bring to boil, stirring; reduce heat, simmer uncovered 60 minutes, stirring occasionally.
Cheese Sauce:.
Melt butter in saucepan.
Stir in flour, cook gently, stirring 1 minute.
Gradually add milk, stir until sauce boils and thickens.
Season with salt, pepper and nutmeg.
Stir in grated processed and grated parmesan cheese, stir until cheese melts.
Place one-third of noodles in greased shallow ovenproof dish.
Spread with half of meat sauce, then third of cheese sauce.
Repeat layers of noodles and sauces, top evenly with third layer of noodles.
Spread last third of cheese sauce on top and sprinkle with parmesan cheese.
Bake at 350 F(175 C) 30 - 35 minutes.