Lasagna With Saucy Sausage, Peppers & Onions
Rita1652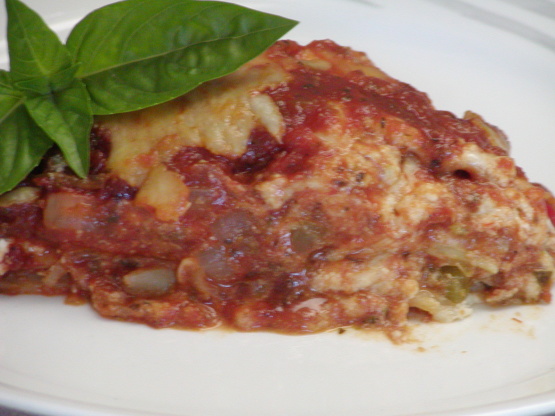 DH loves his lasagna with meat and lots of sauce. So if you like it that way this ones for you! I've made this with uncooked noodles and cooked. You pick! I find the uncooked ones a bit starchy but it's quick and easy. If using cooked noodles you can cut back on the sauce. The uncooked noodles will absorb the sauce. But be sure to let it sit for 15 minutes before cutting into it. I use a deep pan so it doesn't flow over.

Really, really great! Just loved the spicy sausages, and the cheese sauce layer was perfect - I don't really like a bland white sauce so this was my ideal lasagne! I followed the recipe except for leaving out the capsicum as I don't like them, but I found everything else to be perfect! Oh, and I added a generous shake of Italian seasoning to the cheese mix too. Thanks for an outstanding recipe Rita!
Cook sausage, onion, peppers, and garlic in a pan over medium heat till it is no longer pink and veggies are tender.
Drain fat.
Add sauce to sausage mixture.
Mix ricotta cheese, 3 cups mozzarella cheese, 1/4 cup grated parmesan cheese, eggs and parsley.
Spread 1 cup of sauce on bottom of a 13x9x3 pan.
Top with 4 noodles.
Spread 1/3 of cheese mixture on noodles follow with 1/3 sausage mixture repeat 2 more times.
Mix remaining 1 cup mozzarella and Parmesan cheese.
Sprinkle the cheese mixture on top.
Place foil on a cookie sheet and place lasagna on foil loosely cover with additional foil and bake for 30-40 minutes at 350 degrees.
Uncover and bake for 15 more minutes.
Remove and let set for 15 minutes before slicing.