Parsley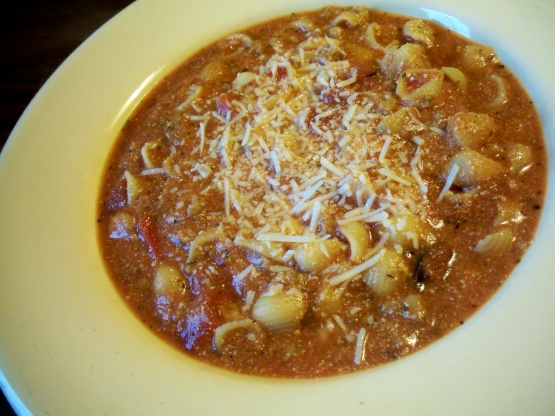 My husband raved about this soup after tasting it at a local deli. This is my version, which he says is very close. It is thick and satisfying, and alot easier to prepare than lasagna!

This was good and really easy to make but it lost a star because it is really sweet. I think I would eliminate the tomato soup and use tomato sauce instead, then add a pinch of sugar to cut some of the acidity. The canned tomato soup flavor was really noticeable. I plan to try it again, however, with a few alterations. FOLLOW UP 7/08: I made the soup again and substituted tomato sauce for the tomato soup and added a whole can of diced tomatoes instead of just 1 cup. Only changes I made and we liked it so much better. This is now a 5 star recipe in my book! Thanks for sharing!
In large soup pot, brown beef& sausage with onion.
Drain.
Cook pasta according to package directions.
Add pasta to pot along with all remaining ingredients.
Heat through, stirring occasionally.
Serve with garlic bread& salad, if desired.