Mannymom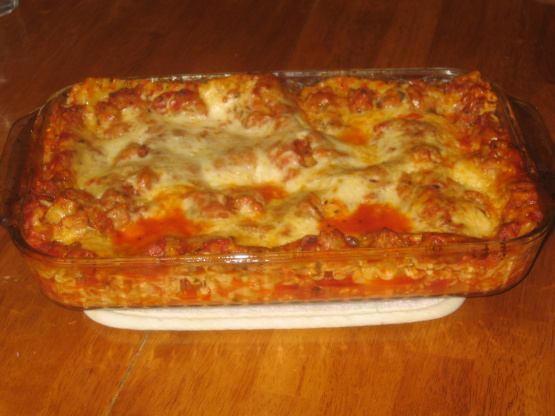 This recipe is easy to make as you do not need to pre-cook the noodles. This is a Weight Watcher's recipe from many years ago when my mom was on the plan. I'm not on the Weight Watcher's plan and this is still the only lasagna I make as it is a family favorite. It tastes better than all the other lasagnas I've tried that have all the calories. Don't let the reduced calorie thing scare you....you can control it by the ingredients you use, and it tastes good any way you make it. My whole family, including my 3 young boys (all under 9), eat this up like it's going out of style. Give it a shot - you won't be disappointed.
Brown meat and onion.
Add all ingredients through parmesan.
In sprayed 9x13 baking dish, layer as follows:.
1/2 of the sauce.
5 noodles.
all the cottage cheese.
remaining 5 noodles.
remaining sauce.
Top with Mozzarella cheese.
Cover with foil and bake at 350 for 1 hour.
Uncover and bake 15 minutes longer.
Let stand 15 minutes before cutting.