Lasagna in a Skillet - in About 30 Minutes!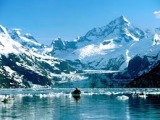 What I love about this recipe, is that it's possible to have lasagna within 30 minutes and only have one pan to wash! It's an easy weeknight recipe to prepare. Comfort food with ease. :) This is an adaption from Cook's Illustrated.
Directions
Cook meat in a large nonstick skillet over medium-high heat, breaking it into pieces with a wooden spoon, for about 5 minutes (until cooked through).
Drain meat and return to skillet.
Stir in garlic, red pepper flakes and 1/2 t. salt and cook over medium-high heat until fragrant (about 30 seconds -- do not burn garlic).
Sprinkle broken lasagna noodles into the skillet, then pour in marinara sauce and water over the top.
Cover and cook, stirring often and adjusting heat as necessary to maintain a vigorous simmer, until noodles are tender (about 20 minutes).
Take the skillet off the heat source and stir in half of the mozzarella and half of the parmesan. Season with salt and pepper.
Dot heaping tablespoons of ricotta over the noodles, then sprinkle with remaining mozzarella and parmesan.
Cover and let stand off heat until the cheeses melt (about 3-5 minutes).
Sprinkle with basil before serving.
Reviews
Most Helpful
This turned out great. Simple to prepare. I did not use the "meatloaf mixture", but just used lean ground beef. I was worried, due to another reviewer's attempt, that the lasagna noodles would be gummy, that did not happen. It did, however, take a little longer for them to cook and I did have to add more water. (That was probably just the brand I used.) I also replaced the ricotta (not a fan) with cottage cheese and mixed it into the "lasagna". Thanks for the recipe LifeIsGood.

Super recipe and so simple to prepare. I used 93% lean ground beef only as the only change. I did add a bit more water to keep it from drying out but that is to be expected based on the sauce used and the fact I had a bit more beef than what was called for in the recipe. That is one of the bonuses - you could add veggies to this and skip the beef, you can bulk up on more sauce or less, more cheese or less and truly make it your own lasagna dish with minimal effort. We really enjoyed it and I know I'll make it again as it saved me so much time! I tagged this in the I Recommend tag game based on weekend cooker's review.
This in wonderful! I hadn't had lasagna in forever because of the time it takes to make. But this was quick, easy and SO good! I make this weekly. Thanks so much LifeIsGood! *5/17/09* I just wanted to add that I only use ground beef. I make this about once a week because of the ease and the requests from hubby. I've made this for numerous people and I always get compliments.
Easy Fall Entertaining >