2Bleu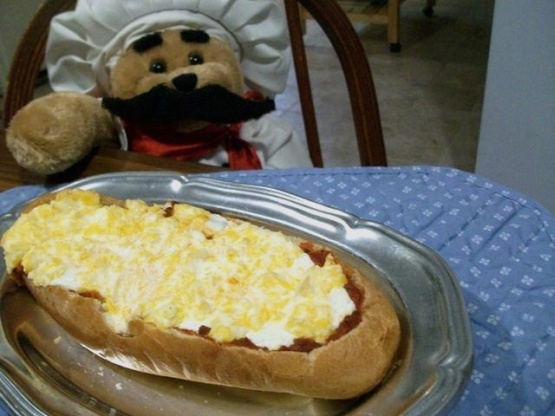 This was SO tasty. I used London Broil (cooked on warm in the crockpot all day), which is a bit dry, but PERFECT for this. Del Monte Traditional spaghetti sauce, skim ricotta, and 2% Mexican cheese (Sargento's). Otherwise everything else was the same. I made foil boats since I was using presliced hoagie rolls and didn't want it to spill out. I'm stuffed right now and yet I still want another. Luckily, we ate two of them and there are still two left. I probably could have fit a fifth, if I'd tried. Thank you SO much for this hearty filling recipe!
Make a 2-in.-wide V-shaped cut in the center of each bun to within an inches of the bottom. Remove cut portion and save for another use; set aside.
In a large skillet, cook ground beef over medium heat until no longer pink; drain. Add the spaghetti sauce, garlic powder and Italian seasoning. Cook 4-5 minutes or until heated through.
Meanwhile, combine the ricotta, Parmesan cheese and half of Cheddar and mozzarella cheeses. Spoon meat sauce into buns; top with cheese mixture. Place on a baking sheet. Cover loosely with foil.
Bake at 350° for 20-25 minutes. Uncover; sprinkle with remaining cheddar and mozzarella. Return to the oven for 2-3 minutes or until the cheese melts. Yield: 8 servings.