Lasagna Cupcakes Carnita Style
Rita1652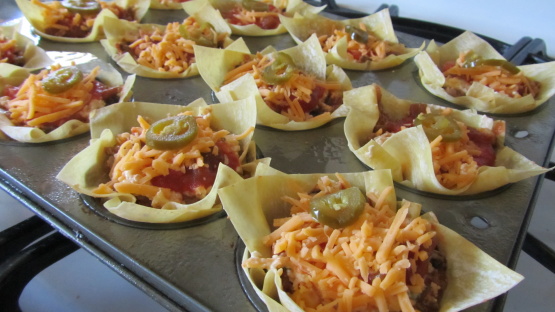 Move over tacos, tamales, tortes, and burritos Carmita's found a new home in lasagna cupcakes! Carnita can be found in Trader Joes already made for hours of no cooking. Carnitas "little meats",

The whole family really enjoyed the flavors. We will make them again. Made as written with no changes. I gave it four stars because these were difficult to remove from the cupcake tin in one piece. They didn't stick, rather some of the layers wanted to seperate because the bottom layer was hard to get access to. Also, the tips of the wrappers were crispy but the rest was not. Next time I will put two wrappers on the bottom to competely line it to aviod the seperation when removing
Preheat oven to 350 degrees.
Mix all the meat mixture and 1 cup salsa in a pot and simmer for 10 minutes.
Mix cheese mixture reserving 1/2 cup grated cheese for topping.
Spray a 12 cupcake pan with olive oil.
Place 1 wonton wrapper into each cupcake holder.
Divide the meat mixture and cheese mixture into three for equal layering.
Place 1/3 of the meat mixture topping with the 1/3 of the cheese mixture.
Top with the second layer of wonton wrappers pressing down to spread the filling below.
Place second layer of meat the second layer of cheese on wonton wrapper.
Proceed with third layering.
Then top with the reserved 1/2 cup of salsa.
Sprinkle the reserved cheese over the salsa.
Top each cupcake with a jalapeno slice.
Bake 20 minutes.
Garnish with fresh cilantro and serve along side salsa, sour cream and or avocados.