sydsmama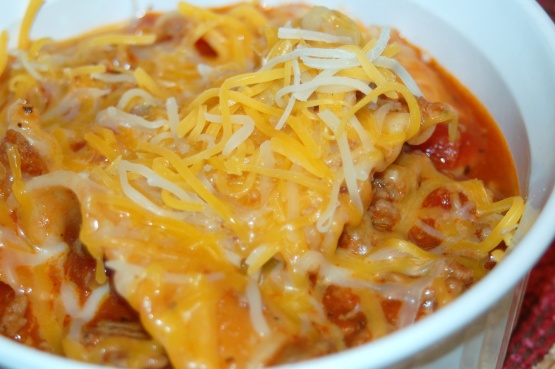 Hearty, Cheesy and Just Plain Good!! The crusty croutons with stringy cheese along with tomatoes and beef is "to die for". A wonderful entree for soup night! Very popular! Easy to prepare! Note: Add 1 cup of water to allow for noodles to cook in soup.

Yum, I really think I prefer this over traditional lasagna! In my opinion, the Italian croutons really complete this... wouldn't skip them! :) I added my broken lasagna noodles right away and my simmer time was 30 minutes. I added a cup of extra broth during cooking, and next time I might add an extra can of broth... it is sooo easy to just add a little water or broth as it cooks (and when you reheat it) to get this just the consistancy you like it. This made 10 1 cup servings (plus a little extra) for me. I am freezing 1/2 of it... hopefully that will work out well, we'll see! Thanks for this tasty recipe! :)
In large 5 quart saucepan, brown ground beef and onion. Drain.
Stir in chicken broth, diced tomatoes, tomato sauce, italian seasoning, worcestershire sauce, garlic powder, brown sugar, salt and black pepper. Bring to a boil and turn back to simmer on low heat for 30 minutes.
Add broken lasagna noodles and simmer until noodles are tender for approximately 20 minutes. Stir in parmesan cheese.
Ladle soup into bowls and top with croutons. Sprinkle with mozarella cheese and serve immediately.