Boomette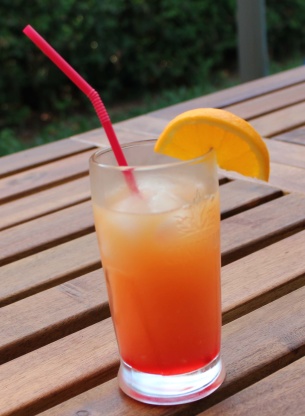 This recipe is based on one from Jude W. Theriot's book, La Meilleure De la Lousiane (The Best of Louisiana). My DH and I purchased this brilliant cookbook at the Pirates of the Caribbean gift shop at Disneyland. This recipe is credited to The Mississippi River Company, Shreveport, Louisiana. I bet they have the best company holiday parties!
Lovely! Perfect for a warm, humid summer evening. I liked the balance of the flavors, I used Jack Rudy Small Batch Grenadine which is the real stuff made with pomegranate rather than all artificial stuff. I think this made it a little bit less sweet and gave it an earthier flavor than it might have had otherwise. Thanks for sharing mersaydees! Made for ZWT 9 by one of Mike and the Appliance Killers
1 1⁄4 ounces bacardi rum
1 1⁄2 ounces orange juice
1 1⁄2 ounces pineapple juice
1⁄2 ounce grenadine
Thoroughly mix ingredients. Serve on the rocks. Garnish with a slice of orange or pineapple.