Large Sausage Apple and Onion Lattice Roll
robd16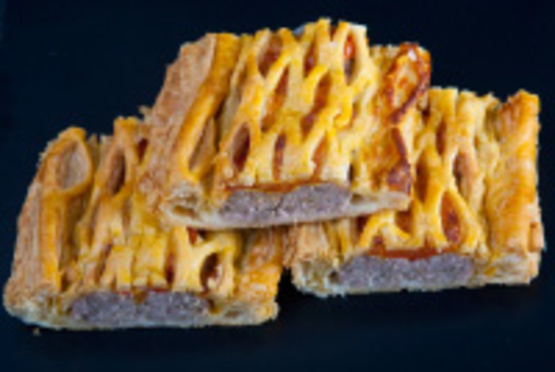 Store bought puff pastry and home seasonings make this an easy tasty treat to serve as part of a main meal when you want something special. Its so simple to make too, I don't know why I don't make it more often :)
Preheat the oven to 180C.
In a large bowl mix everything together thoroughly apart from the puff pastry.
Lay out 1 of the puff pastry sheets and imagine it is split into 3 equal sections.
Arrange half of the sausage mixture straight down the middle of the imaginary middle section and with a knife score all the way through the pastry, lines going down in a diagonal. This will make more sense as you do it.
Overlap strips from each side over the middle of the sausage mixture and repeat with the other sheet of pastry and other half of mixture.
Brush with milk
Bake for 15-25 minutes on a greased baking sheet until golden brown.
Allow to cool for 10 minutes before serving.
Absolutely gorgeous!