Langley Blackberry Muffins
Lvs2Cook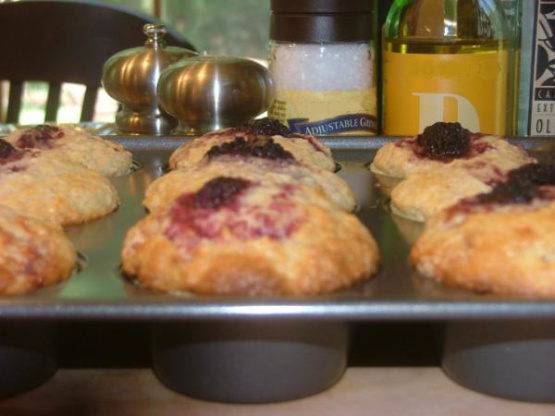 I found this recipe in a magazine article. This is a great use for blackberries that grow in abundance where we live. We pick the wild blackberries and spread them on cookie sheets and put them in the freezer. When frozen, transfer the berries to freezer bags. This way we always have plenty of berries to make muffins year-round.

These muffins were fantastic. The almond extract is a nice touch. I had some fresh berries to use up, and this was the perfect recipe! They're definitely best while they're still warm, but they still taste great the next day. I'll be making these a lot over the rest of the summer!
Soak oats in buttermilk for 10 minutes.
Grease 12 muffin cups.
Preheat oven to 375°F.
Measure flour, baking powder, baking soda, salt and sugar into large bowl making well in centre.
Whisk egg, then stir in butter and extract.
Combine egg mixture with oat mixture before adding into flour mixture. Mix gently until almost combined.
Add frozen berries to batter. Do not over mix.
Bake for 25-30 minutes until cake tester comes out clean.
Remove pan from oven and let it sit for about 5 minutes before inverting the muffins onto a cake rack.