StevenHB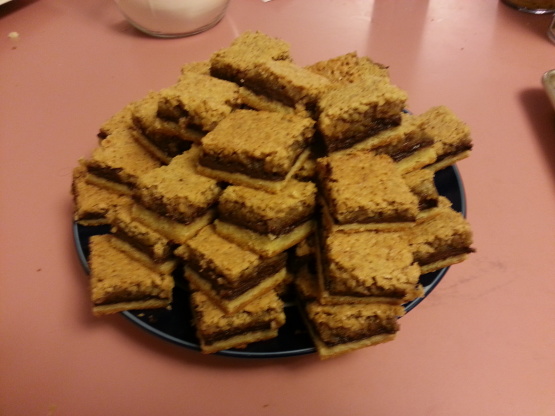 My grandmother has been making these since I can remember. They are my *favorite* cookies.

These are awesome! Two of my favorite flavors are raspberry and chocolate, and they meet so well in these cookies. It's hard to explain the textures here, kind of crunchy on the bottom, but gooey on the top. Thanks for sharing these, Steven, they're now MY favorite cookies! :o)
Beat first three ingredients (butter, egg yolk, and OJ).
Sift and stir in next three ingredients (sifted flour, sugar, and baking powder).
Press into a greased pan (9x13") (note, I frequently use a glass as a makeshift rolling pin for this step).
Bake in oven (350) for 10 minutes.
Sprinkle at once with chocolate chips.
Return to oven for 1-2 minutes.
Remove and spread chocolate.
Cover with optional pureed raspberries.
Beat two eggs until thick, 3/4 cups sugar, and melted butter.
Mix in 4 teaspoons of vanilla extract and the chopped walnuts.
Spread mixture over chocolate (raspberries).
Return to oven and bake at 350 for 30-35 minutes.
Cut into bars as desired.