"Land of Nod" Cinnamon Buns
Pamela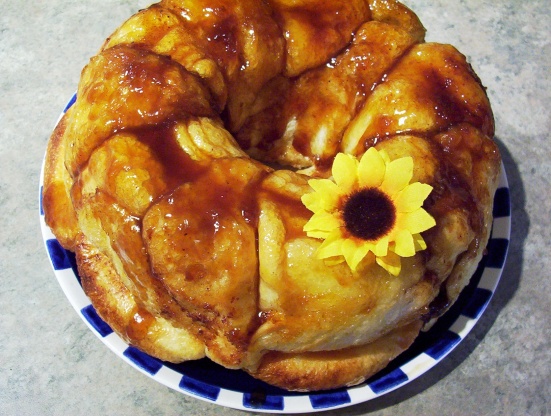 I have made this several times and it's dead easy. If you have overnight guests, what could be easier for breakfast? I've made it on special occasions, too, such as Easter morning and Christmas morning, etc. This recipe comes from the Best of Bridge series.

So EASY! Big hit with the kids! I'm sure they ate more then their fair share! I have found this recipe in several different sites with the only difference being the amount of cinnamon used. I see amounts ranging from 2 teaspoons to 2 tablespoons (unless it's a typo!) I used a little over one tablespoon judging by just what looked like "enough". It was very good that way! Only problem I found was "cutting" it into slices so we just pulled it apart and ate it! Very Yummy! A great thing to do on the Eve of something like Christmas when you don't want to get up and fix breakfast the next morning. Good for making while on a vacation with a kitchen as not much is needed for a great home cooked breakfast treat!
Before you turn in for the night, grease a 10" bundt pan and add frozen rolls.
Sprinkle with brown sugar, pudding powder, cinnamon and raisins.
Pour melted butter over all.
Cover with a clean, damp cloth.
(Leave out at room temperature).
Off to bed you go!
In the morning, preheat oven to 350 and bake for 25 minutes.
Let sit for 5 minutes and then turn out on a serving plate.