Geema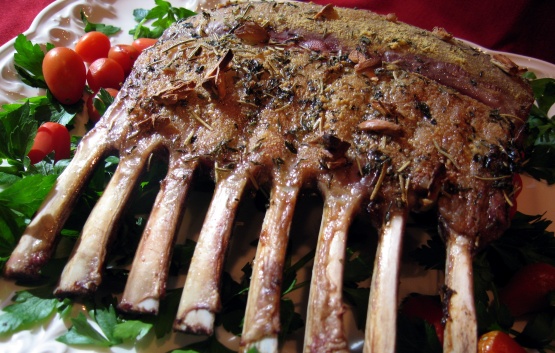 A specialty of the Kronenhalle, Zurich, Switzerland (taken from the Galloping Gourmet) For Zaar World Tour II '06

Top Review by Geema
The mustard and herbs along with the more traditional garlic, give this lamb a rich, savory flavor that we enjoyed immensely. I did not roast the lamb for the full hour...more like 45 minutes since we like it medium rare. Since we are not eating potatoes right now (sob) I left them out of the recipe, but don't think they were a real integral part of the dish and the lamb was excellent without them. Great recipe!
Preheat oven to 400 degrees F.
Combine herbs and mustard. Spread on scored skin of lamb, pressing down well into cuts.
Dust lightly with flour. Insert garlic slivers into meat in between ribs. Season well with salt and pepper and set aside.
Drain potatoes well and cut into 1/2-inch slices.
Lightly coat large ovenproof frying pan with clarified butter and heat well.
Add potatoes and cook until golden brown, about 9 minutes.
Place lamb on top of potatoes and place entire pan into oven. Roast for 30 minutes.
Dust lamb with bread crumbs and roast another 30 minutes.
Remove meat from oven, drain off fat and place meat on heated serving platter.
Turn oven to broil and broil potatoes for 2 minutes until crusty and golden brown.
Arrange potatoes around meat to serve.