L. Duch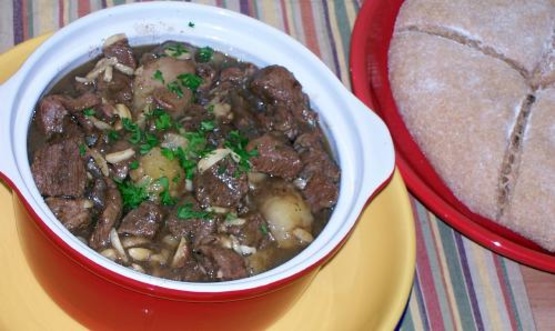 Tagine are Moroccan slow-cooked meat, fruit and vegetable dishes which are almost invariably made with lamb, but beef makes a nice alternative. I happened upon this recipe on the Berber Trading Company site while shopping for tagines. I love lamb and Moroccan food and this one looked interesting. This has a really nice flavor and goes well served with a flat bread or rice. Smells heavenly while cooking.

Top Review by NovaM
Made this exactly according to the recipie. Was easy to put together and tastes OK - the kids hated it, though! If I was to make this again, I'd ease up on the black pepper a little. This recipie is OK if you want to try something a little different, but I wouldn't serve this as a family meal.
2

onions, peeled and sliced

907.18

g lamb, lean and cut into 2-inch pieces

4

pears, peeled, cored and cut into quarters
water, enough to cover the meat

118.29

ml almonds, slivered

14.79

ml olive oil

4.92

ml black pepper

4.92

ml cumin, ground

4.92

ml cinnamon, ground

4.92

ml coriander, ground

4.92

ml ginger, ground
In a large sauce pan gently fry the onion in the olive oil until soft.
Add lamb, ginger, and coriander to the pan and cook until it changes color.
Add cumin, black pepper, cinnamon, and water to just cover the meat.
Salt to taste.
Cover and simmer gently until the meat is tender, about 1.5-2 hours.
If there seems to be a bit too much liquid, displace the lid after an hour of cooking.
Add the pears to the meat together with almonds. Cook for a further 5 minutes or until the pears are soft.
NOTE:.
For a different twist on this, you can substitute mixed vegetables of your choice, instead of pear. It would make it more savory than sweet.