Lamb With Braised Lentils
IngridH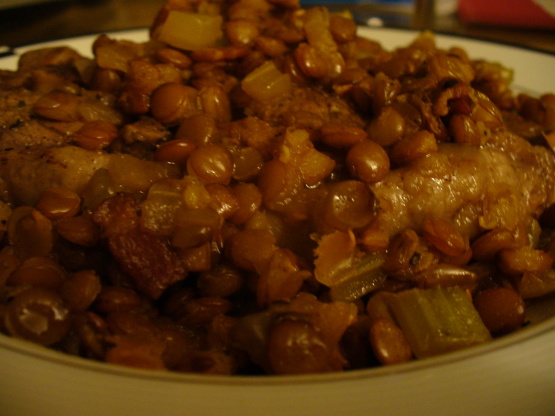 An everyday lamb dish with a subtle blend of flavours, that you can enjoy at any time of the year, without needing to either heat the oven or set up the BBQ. Adapted from English chef Louise Blair's 'Low GI Cookbook'. Like garlic, lemon in recipes is one of those ingredients that most people seem to either love or hate. If you're not fond of lemon juice, omit the lemon rind and juice; fry the lamb steaks in 1/4 tablespoon olive oil and consider substituting a little of the vegetable stock for wine, perhaps a merlot or a dry white.

This was wonderful! I've never thought of doing lamb and lentils together, but this was a really lovely combination of flavors. I cut the recipe down to serve 1, and I have enough lentils left to be a side dish for another meal. I wasn't sure what back bacon is, so I used regular American bacon. I also used brown lentils and chicken stock (on hand). This is a definite make again, and really a comfort food kind of dish. Thanks for posting!
Mix together the lemon rind, rosemary, sage and garlic and rub over the lamb steaks, then squeeze the lemon juice over the lamb steaks.
Heat a large non-stick pan until hot and, over a medium-high heat, add the lamb steaks (and some of the lemon juice that has dripped off them when you transferred them to the pan) and fry for 1 minute on each side.
Remove the lamb from the pan, and set aside.
Add the bacon, onions, carrot and celery to the pan and fry for 2-3 minutes or until they are beginning to soften.
Add the lentils and the stock – and any of the herbs and garlic that didn't make it into the pan earlier when you were browning the lamb steaks – and, over a high heat, return the lamb to the pan and bring the mixture to the boil.
Reduce to a low-medium heat and simmer gently for 30-40 minutes or until the lentils are tender and most of the stock has been absorbed.
Serve the lamb with potatoes mashed with buttermilk or low-fat milk. If the potatoes have been made ahead of time – and if you like spinach – mix through the mashed potatoes a packet of frozen spinach, which has not only been thawed, and thoroughly-drained but has also had all excess moisture squeezed from it.
Chef's Note: Since I posted this recipe and last made this dish, I have found and posted the most fabulous recipe for vegetable stock, which is now my standard vegetable stock recipe: Vegetable Stock Recipe #135453.