JustJanS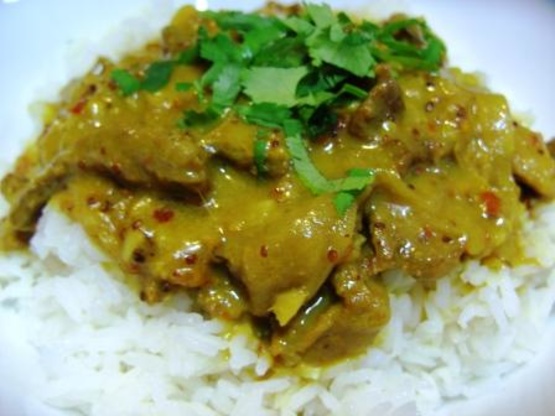 Slightly different than most vindaloos, and I think better. What makes it different is using coarser crushed red pepper instead of cayenne, and the coconut milk. While most vindaloos are instantly fiery on the tongue, the coconut milk in this one causes a slow buildup of spiciness. In fact, people I know who are not hot food lovers have been fooled by this dish. The first few tastes hook them, and they continue on eating in spite of the increasingly obvious heat buildup. This is one of our favorite recipes. And while the coconut milk makes this a bit of a chameleon, be assured it is still quite spicy(I tend to use 2 heaping tablespoons of the crushed red pepper) Can use pork or chicken as well, but I find lamb far superior. Less strongly flavored meats are overpowered by the curry.

This was really excellent! I made a few minor changes... used dried chilis (8 small ones) softened in warm water and ground with a mortar and pestle, also added 1 tsp of cinnamon, and ground up fennel seeds to make 1/2 tsp. Instead of using water, I used beef stock. In the last 15 minutes I also added the last half of a bag of frozen peas. It was rich, deep and delicious! My boyfriend called it "awesome" and wanted to know why I didn't make Indian food more often! I served this with Israeli Cous Cous (the giant pasta pearls) and rye bread which complimented it greatly! Delicious!
Combine curry ingredients in a glass bowl or cup. Mix well.
Put oil in a large pot over medium-high heat. Add the onion and fry until they are brown (but not burnt!).
Add garlic to the onions and fry for 30 seconds.
Add the curry mix, stir and fry for a minute.
Add the meat, stir and brown about 5 minutes.
Pour in the coconut milk. Add additional water to just cover the meat.
Bring to a boil, then cover the pot, reduce to a simmer, and cook for 75 minutes.
Serve over hot rice (I use Basmati).