BarbryT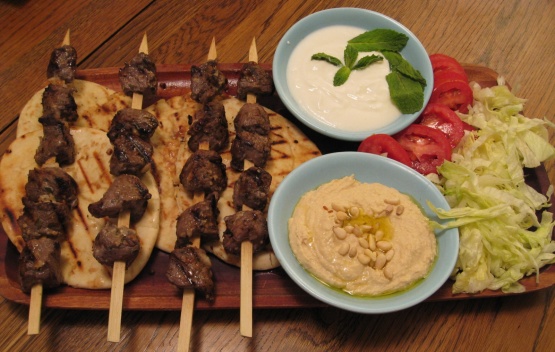 A recipe I learnt in high school cooking class - became a staple for summer BBQ's

Yum! The seasonings are delicious on the lamb (although sea salt sprinkled on the kebabs after cooking is essential in my opinion). I love the accompaniments too. I garnished the yogurt with fresh mint and the hummus with a bit of olive oil and pine nuts.
500

g lamb, diced and threaded onto skewers

4

tablespoons oil

2

teaspoons garlic, crushed
1⁄2 onion, diced

3

tablespoons lemon juice

1

teaspoon oregano

6

flat bread (pita, lavosh etc)
1⁄2 lettuce

1

tomatoes
1⁄2 cup Greek yogurt
1⁄2 cup hummus
Mix oil, crushed garlic, onion, bay leaves, lemon juice and oregano together in a shallow dish or marinader. Add meat skewers and marinade for 2 hours up to overnight.
Shred lettuce and cut up tomato into slices, put into serving bowls.
Cook meat on a BBQ or grill pan for 4-5 minutes on each side until well cooked.
To serve - Place the flat breads, lettuce, tomato, greek yoghurt and hommus and cooked skewers on the table for self serve.