Lamb Shanks with Oregano and Feta
JustJanS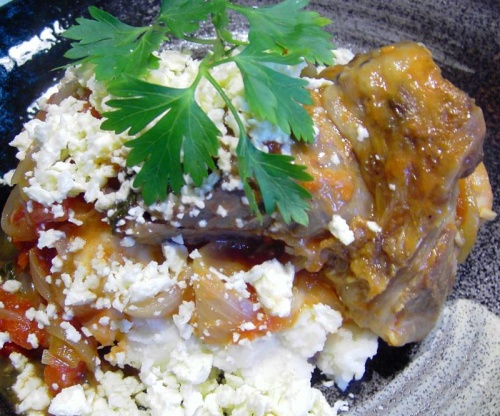 My wife likes it and very tasty. From Suzanne Sommer's Get Skinny cookbook. p.216

I just prepared this dish for a quiet New Year's Dinner for my Wife. We used local lamb shanks purchased from our local farmers market, which I believe enhanced the dish. I also used locally produced artisan Feta. The flavor of the meat was wonderful. I took several cups of the braising liquid, and reduced it during the last half hour of cooking. The meat fell of of the bone, the acidity of the tomatoes mitigated the saltiness of the feta. I served the shanks in a flat bowl with roasted garlic mashed potatoes, and our own home grown beets. Except for the Spanish Red Wine, nothing in this great meal traveled more than 30 miles from farm to plate. This is defiantly is a keeper.
Trim any excess fat from shanks, then season with salt and pepper.
Heat the oil in a stockpot over high heat.
Add shanks, turning requently to brown all sides.
Remove from the pot and reserve.
Lower the heat to medium and add the onions, stirring until golden brown, about 7 to 10 minues.
Add the stock, oregano leaves, cayenne, and tomatoes with juice.
Scrape the bits off the bottom of the pan to release the flavor.
Add the shanks back to the pan.
(If the shanks are not completely covered by liquid, add enough water to cover.) Bring to boil, then lower the heat and simmer for about 2.
5 hours.
The shanks are done when the meat is practically falling off the bone.
To serve, arrange 1 shank per person in your favorite bowls.
Sprinkle with feta cheese and top with the onions and the sauce.
Serve immediately.