Lamb Shanks With Merlot and Garlic
ImPat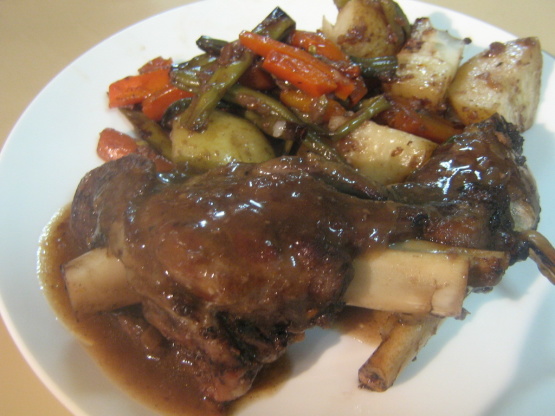 Lamb shanks become tender and juicy when braised in a good Pacific Northwest Merlot. If your pot is smaller than 10 inches (25 cm) in diameter, ask your butcher to crack the bones so the shanks will fit. Serve with lots of fresh crusty bread to mop up the sauce. From The Pacific Northwest (Williams-Sonoma New American Cooking) by Jean Galton.

Top Review by ImPat
I used 3 lamb shanks weighing about 500 grams each (just over a lb) I did just added some green beans to make it a one pot meal. My one concern was so little liquid, I added a 1/2 cup of water and glad I did. We like our lamb shanks having the meat fall of the bone, so cooked under cover int he oven (175C fan forced) for 2 hours and then transferred the shanks and vegetables to containers and put in a 50C degree oven to keep warm while I made the gravy, there was so little after removing the oily slick from the rim that to boil it down would have left me with nothing so I added a cornflour/cornstarch dissolved in some water to thicken and it was a perfect amount for the three of us, so if you like a LOT of sauce I would advise doubling the or at least half as much of the merlot and stock. thank you lazyme for a great lamb shank recipe, made for New Kids on The Block.
Preheat the oven to 350°F (180°C).
Trim off any excess fat from the lamb shanks.
Sprinkle the shanks with the salt and pepper.
Spread the flour on a plate and turn the shanks in the flour, shaking off any excess.
In a large, heavy ovenproof pot over high heat, warm 2 tablespoons of the olive oil.
Add the shanks (in batches, if necessary) and brown well on all sides, about 5 minutes.
Transfer the shanks to a plate.
Wipe out the pot.
Add the remaining 2 tablespoons oil to the pot over medium-high heat.
Add the onion and cook, stirring frequently, until soft, 3-4 minutes.
Return the shanks to the pot along with the potatoes, carrots, garlic, bay leaves, thyme, wine, and stock.
Bring to a boil, cover, and transfer to the oven.
Bake for 1 1/2 hours. Uncover and continue to bake until the Iamb is very tender, about 30 minutes longer.
Transfer the shanks to a platter.
Using a slotted spoon, transfer the potatoes and carrots to the platter.
Cover and keep warm.
Using a large spoon, skim off any fat from the surface of the sauce remaining in the pot.
Lift out and discard the bay leaves and the thyme.
Place the pot over high heat and bring to a boil.
Cook the sauce until it reduces and is lightly thickened, 3-5 minutes.
Pour the sauce around the meat.
Sprinkle the meat and vegetables with the parsley and mint.