Lamb Shanks on Cannellini Beans
K9 Owned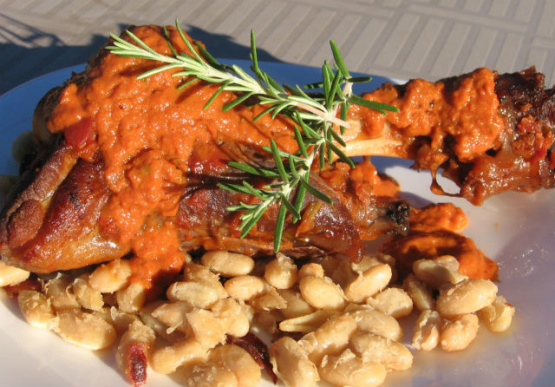 Another French comfort food I found on myrecipes.com. Posted for ZWT8- France.

Lovely meal! I scaled the recipe back for 2 people but left the sauce measurements as written. I elected to puree the sauce but it would have been just fine in it's more rustic state. We also loved the beans and I intend to make those as a side dish frequently in the future. I'll make the lamb again as well but lamb is expensive here and the shanks are sometimes difficult to find. I wish that we had 1/2 star ratings because I'd give this a 4 1/2. The only reason to not give it 5 as written is that we thought the lamb lacked seasoning. I'd go heavier on the salt and pepper next time and maybe add some garlic salt and give it a good rub before browning. That is just our personal preference. Thanks for sharing! Made for the Bistro Babes - ZWT 8
Sprinkle lamb with salt and pepper. Heat a large nonstick skillet over med-high heat. Add lamb;cook 12 minutes, browning on all sides. Remove from skillet.
Add carrots,onions, and celery to skillet;saute 3 minutes. Add wine. Bring to a boil; cook 5 minutes.
Stir in broth, rosemary, tomatoes, and bay leaves. Return lamb to skillet (skillet will be very full). Cover, reduce heat, and simmer 2 hours or until lamb is very tender, turning lamb once. Remove lamb from skillet, bring liquid to a boil, and cook 5 minutes. Discard bay leaves.
Sort and wash beans; place in a large Dutch oven. Cover with water to 2 inches above beans; bring to a boil, and cook 2 minutes. Remove from heat; cover and let stand 1 hour. Drain beans; place in Dutch oven. Cover with water 2 inches above beans; bring to a boil. Reduce heat, and simmer 1 hour or until tender. Drain.
Cook bacon in the Dutch oven over med-high heat until crisp. Remove bacon from Dutch oven, reserving 2 teaspoons drippings in Dutch oven. Crumble bacon. Heat drippings over med-high heat. Add garlic; saute 2 minutes or until golden. Stir in beans and bacon; remove from heat.
Divide beans evenly among 6 plates, arrange lamb on beans. Spoon sauce over lamb. Garnish with rosemary sprigs, if desired.