Lamb Shanks in Five Spice, Tamarind & Ginger
ImPat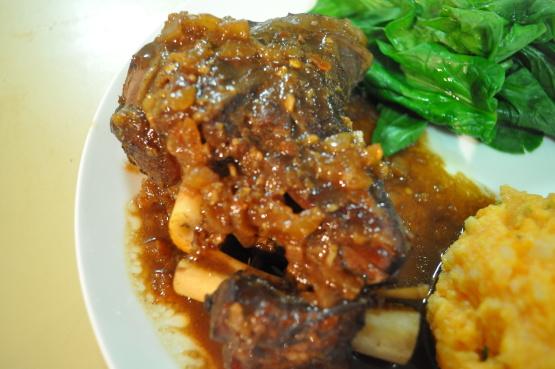 This is adapted from Pamela Clark's Low Carb - Low Fat Cookbook. If this is diet food, please give me more. I served this with some steamed choy sum.

Top Review by ImPat
This was so good it had a bit of oomph with some sweetness and taste of sour and so easy to prepare. The sauce it produces is fantastic (the DM a women who usually says so to sauce of gravy, well I put it on her plate, there was none left when dinner was finished). I had 4 lamb shanks weighing aboout 300 grams each (not french cut) and even after an hour at 170C fan forced oven the meat was coming off the bone so I turned it down to 120 for the next hour and the result was succulent meat that was falling off the bone. Will think of Latchy every time I make this. Made for Bargain Basement.
Preheat oven to moderate.
Dry fry, five spice, chili, cinnamon and star anise in a small saucepan until fragrant.
Then add soy sauce, wine, tamarind, sugar, ginger, garlic, onion and water and mix well.
Place lamb in a single layer in a large shallow baking dish and drizzle over the sauce mixture from the saucepan.
Bake covered in a moderate oven, turning the lamb occasionally for about 2 hours or until the meat is falling off the bone.
Remove lamb from the dish and keep warm while you skim any excess fat.
Strain the sauce into a small saucepan and boil for about 2 minutes. Put lamb onto serving plates and pour sauce over and serve with green steam vegetable.
If you are not on a diet serve with rice or mash potato.
This could also be made in a large dutch oven on top of the stove.