Lamb Shanks in Barbecue Sauce
Peter J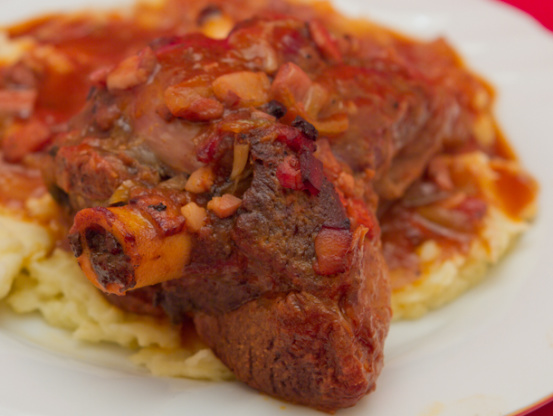 This recipe came from one of the first cookbooks I ever bought, "Casserole Cookbook". The price is still on the cover-$1.25- so you can only imagine how many years I have been cooking and enjoying these shanks.

Jan it really surprised me that this recipe hasn't been reviewed before, this is a really good recipe and I know that I will make it alot. The bacon and worcestershire sauce really gave this an excellent flavour. I used malt vinegar and chicken stock and as my shanks were larger than normal I cooked it for about 2 1/2 hours on 160C (320F) until the meat was falling off the bones. I served with mashed potatoe and green beans and even my 2 year old asked for more. Thanks for a great recipe.
Wipe the lamb shanks with a damp cloth.
Remove the rind from the bacon and chop.
Heat the butter in a flameproof casserole, add the onion and bacon and saute until golden brown, remove from the casserole. Roll the lamb shanks in flour and brown evenly all over in remaining fat in casserole. Return the onion and bacon to the casserole, add the remaining ingredients and bring to a boil. Cover the casserole and cook in a moderate to slow oven for about 2 hours or until the shanks are tender. Serve with creamy mashed potatoes and a green vegetable.