ImPat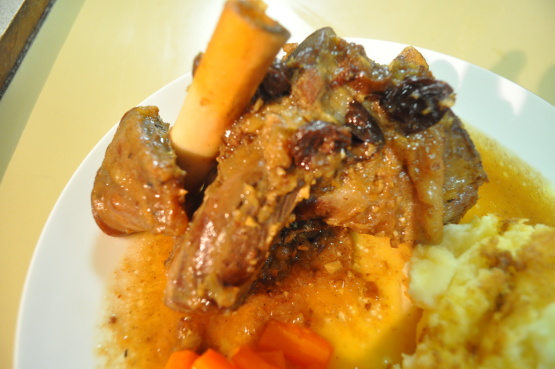 I found this recipe for shanks on the net, and added a few things to it to please us. I'm able to cook shanks now there is just the two of us. Shanks are expensive here-too expensive for a family!

Top Review by ImPat
I used 3 shanks each weighing about 450g each and cooked for just over 2 hours for fall off the meat super delicious meat. I just wacked the stick blender in to give it a quick twirl rather than doing the seperation process. I used a fresh lemon and overall it went much better than I expected as I wasn't sure how the DM would take it but she loved it. Thank you Jan, made for Make My Recipe Edition 11.
Soak the sultanas in sherry for 30 minutes.
Heat the oil in a large pan with lid.
Brown the lamb shanks well on all sides, then add the onions, garlic, ginger and coriander and cook a further 5 minutes.
Heat the stock and add the saffron strands.
Allow to stand for 2 minutes to infuse.
Add the sultanas and sherry, cinnamon and saffron stock to the pan and bring to the boil.
Reduce the heat to a simmer, cover and cook for about 2 hours or until the lamb shanks are tender-check occasionally after 1 1/2 hours.
If you are using the fresh lemon rather than the preserved one, slice it and sprinkle with the salt.
Cover it with boiling water and set aside until the shanks are cooked, then drain.
When the shanks are cooked, remove them and puree half the sauce in a blender or food processor.
Return the shanks and pureed sauce to the remaining chunky sauce, and add the lemon (preserved or fresh slices) Season with pepper, sprinkle over the toasted almonds and parsley and serve hot.