JustJanS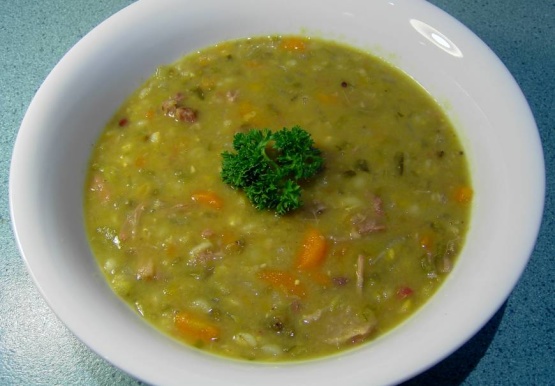 This is my mum's recipe, which I made just recently. My son's girlfriend wanted the recipe, so I figure this is the easiest way to give it to her! If you like hearty old-fashioned soup, this is a good stick-to-your-ribs one! Cook time includes making the stock, then next day, the soup, but not the sitting overnight!

Top Review by Geema
I loved making this old fashioned, delicious soup that fed our bodies and souls. We had visions of being transported to the Outback living in wilder, yet simplier times. I did not vary too much from this recipe except to add less water to the soup since my DH likes a thick, chunky soup. I loved the turnips, and cubed them before I noticed that I should have grated them. They were wonderful cubed and I recommend doing that. The leftovers are in the freezer and we can't wait. Thanks JanS!
STOCK

1

onion, roughly chopped

2

stalks celery

2

carrots, peeled and roughly chopped

1

teaspoon black peppercorns, lightly crushed

1

clove garlic, crushed

3 -5

stalks parsley

3 -5

sprigs fresh thyme (optional)

SOUP

3

stalks celery, diced finely

2

large carrots, cut into tiny dice

2

medium onions, diced

1

small swede turnip, grated

1

(40 g) packet dry onion soup mix

1

(500 g) packetdried soup mix (a mix of dried pearl barley, lentils and dried vegetables)

9

cups water
salt & freshly ground black pepper
STOCK: Place all the ingredients for the stock in a large saucepan and cover with water.
Bring to the boil, then reduce to a very low simmer and cook for about 2 hours, or until the meat is tender enough to fall off the bones.
Strain, reserving the liquid and meat and discarding the vegetables.
Shred the meat and refrigerate.
Cool overnight, refrigerate, then remove the fat from the top of the stock and discard the following day.
SOUP: Place all the ingredients (except the shredded, reserved meat) for the soup in a large stockpot.
Bring to the boil, then reduce to a simmer and cook for about 1 hour, or until the soup mix is tender, stirring occasionally.
Season well to taste, add the reserved meat and heat through well.
Serve with crusty buttered bread!