Lamb Shank and Potato Curry
Sara 76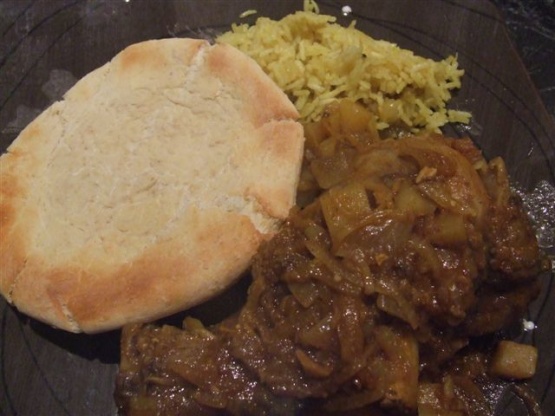 From the June 24, 2008 Sydney Morning Herald. The 2 hours prep time is for marinating the lamb.

I made this for my hubby & sister last night, and we all LOVED it! We all love Indian food, and this was truly amazing! My only 2 alterations were that I couldn't find nigella seeds, so I left them out. Also i ended up having to cook it in the crock pot, so my cooking method was slightly different. after the marinating stage, I just threw it all in the crock pot for a couple of hours, and the meat was so tender, and the flavours all really came together. Great recipe, thanks for sharing it! [Made for the Aus/NZ Recipe Swap Sep 08]
Wash the shanks and trim neatly.
Mix the yoghurt with the garam masala and massage into the shanks. Cover and refrigerate for 2 hours.
Combine the spice mix ingredients.
Heat 2 tbsp oil in a large frypan and cook the onion until soft but not browned. Add the ginger, garlic, bay leaves and spice mix and cook for 3 minutes. Set aside.
Heat the remaining 2 tbsp oil in a heavy, lidded pot and brown the lamb shanks on all sides.
Add the onion mixture, tomato paste, diced potato, salt and 400ml water, and bring to a high simmer.
Cover and cook over gentle heat for 1 1/2 to 2 hours, until the lamb is tender and the sauce is thick.
Cook the beans in simmering salted water, drain and toss over the top. Scatter with nigella seeds and coriander and serve with warm naan bread and yoghurt, and rice pulao.