Bergy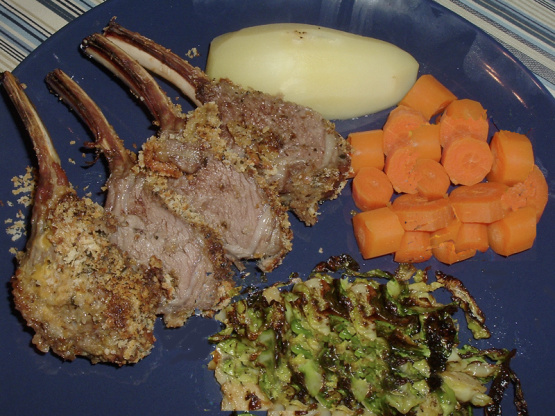 When selecting Lamb Racks (rib roast), allow at least 3 ribs per person. Racks are usually sold 6 to 8 ribs per roast. This recipe will have to be adjusted logically to accommodate more than two people. Serve with roasted root vegetables, rice pilaf or mashed garlic-potatoes. Suggested wines - Sauvignon-Shiraz or Sauvignon-Blanc (or both). For dessert, I would recommend a lime gelato, to aid digestion; or skip dessert and have another bottle of Sauvignon-Blanc and a selection of cheeses and fresh fruit.

Top Review by Bergy
Easy, prepare ahead and pop in the oven 30 minutes before dinner - the flavor is excellent. I did one serving 4 ribs so only needed apprx 1/4 cup of crumbs - i pressed the crumbs well into the mustard and they adhered perfectly. The flavor from the crumbs and dijon compliment the lamb . This recipe goes straight into my Company cook book - Thank-you Toolie for another winner
Preheat oven to 375 degrees F.
Trim exterior fat on roast to within 1/4 inch.
Coat with Dijon mustard.
Combine bread crumbs, basil and garlic; pat mixture over mustard.
Place roast, fat side up, on rack, in open roasting pan.
Insert meat thermometer in thickest part, not resting in fat or on bone.
Do not add water, and do not cover.
Roast in preheated oven to desired doneness.
Allow 30-35 minutes per lb.
for rare; 35-40 minutes for medium; and 40-45 minutes for well done.
Remove roast when meat thermometer registers 140 degrees F for rare; 160 for medium and 170 for well done.
Garnish with lemon slices and Italian parsley, if desired.