TNlady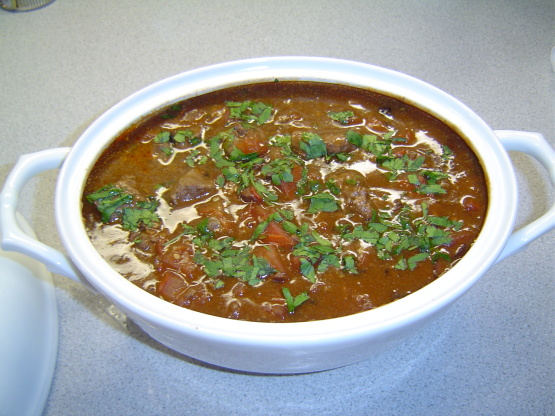 Heavenly! I saw this recipe in a magazine at the supermarket (? Fine Cooking ? Gourmet). I was so excited, wrote the ingredients on a scrap of paper, and made a dash for the meat department. I substituted boneless lamb for shoulder chops, Merlot for white wine, Roma tomatoes for artichoke hearts, increased the amount of garlic and tomato paste and added parsley. I served this with Yam a Day. Eat your heart out Jan S. !!

As promised, we tried this tonight. You certainly have my tastes worked out Lorac, it was delicious. I really love a reduced sauce rather than a flour thickened one, as I think it intensifies the flavours, and this was no exception. I added 2 quarted onions along with the garlic, but otherwise didn't change a thing. All you people who aren't so fond of lamb, this is a good recipe to try. Next time I cook a a rabbit I'll do it the same way.
Heat oil and butter and brown lamb over high heat.
Add garlic and rosemary, stir for 30 seconds.
Add wine and stir, mix in beef broth and tomato puree.
Reduce heat, cover and simmer for 1 hour.
Remove cover,increase heat to medium high and cook until sauce begins to thicken.
Add tomatoes and olives and cook 5 minutes.
Stir in parsley and serve.