Lamb Meatballs with Spicy Tomato Cream Sauce
flower7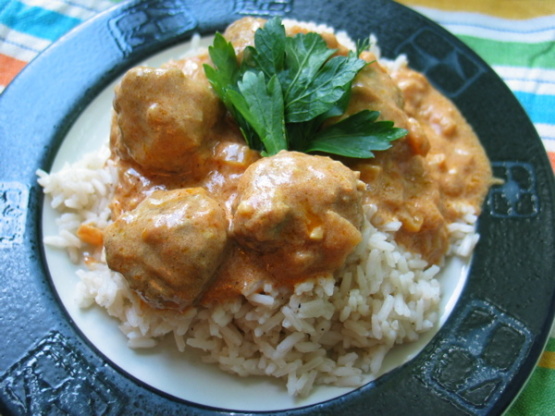 These flavorful meatballs are cooked with a spicy tomato cream sauce. It has a fairly nice kick to it without being over-spicy. Delicious served over rice. Would go well with a nice green veggie on the side! Reminds me of Swedish Meatballs, only better!

Top Review by Geema
I am so glad that I picked this recipe to make for the RSC contest because it is a real winner! I made this dish exactly as instructed and got perfect results and a wonderful meal for two with one serving left over. I actually made this recipe the day before and reheated it with outstanding results! The meat balls are so very tender and the sauce filled with flavor. However, it was very spicy (fine for us) and some people might want to cut down on the cayenne pepper just a bit. I know I will make this again, not only for my family, but as a great dish to serve to company. Congratulations on creating an excellent recipe.
For the meatballs, in a large bowl combine the lamb, breadcrumbs, egg, salt and garam masala and mix well-- use your hands, they work the best!
Roll the mixture into 1" meatballs.
You should gat about 16 or so.
In a large skillet, over medium-high heat, heat olive oil.
Add meatballs and fry until browned on all sides.
While the meatballs are browning, place tomatoes in a food processor and puree until smooth.
Remove meatballs from skillet, leaving drippings in the pan.
Set aside.
Reduce heat a little, and add the onion to the pan drippings and saute until softened.
Add more oil if needed.
Add the garlic and saute for 30 seconds.
Add the pureed tomatoes, curry powder, cayenne pepper and sugar.
Cook for 1 minute, stirring constantly to combine.
Add 1 cup of the chicken broth to the skillet.
Stir well and bring to a boil.
Reduce heat and simmer for 5 minutes.
Add half and half, and cook for 3 minutes, stirring well to blend.
Mix remaining 1/4 cup chicken broth and flour in a small cup until smooth, and add to skillet.
Bring to a boil, reduce heat, add meatballs, and simmer for 10 minutes.
Serve over rice.