Lamb Meatballs With Cucumber Mint Yogurt and Couscous
mliss29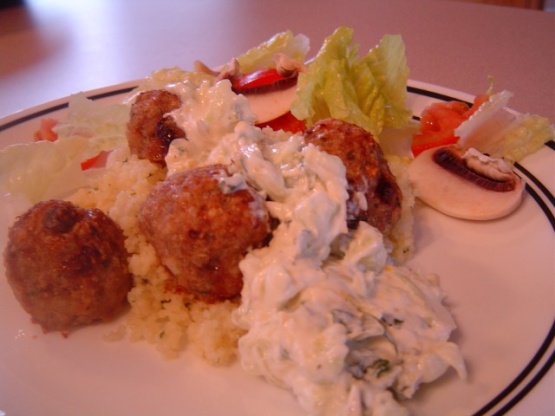 Chef Ivy Starks creation for "chef on a shoestring budget". prep does not include the 4 hour time to drain yogurt

Well, I think I dirtied up every pan in the house, but it was worth it! This was really good! I believe my husband said, "wow!", "this is awesome", "this is a really delicious dish", etc. There are really a lot of flavors, all contributing to the overall wow. Mostly I obeyed the directions, but I used ground turkey, 2 tsp dried parsley, no cilantro, and no chili pepper flakes. And I only drained the yogurt & cukes about 1.25 hours (because I forgot to prepare ahead), but they were fine. My husband said the only thing to change "the next time you make this" would be to double the sauce. Thank you so much for this tasty dish! Made for Newest Zaar Tag, 08A.
1⁄2 cup breadcrumbs
1⁄4 cup milk

1

lb ground lamb

1

cup blanched almond, toasted and ground
1⁄3 cup chopped onion
1⁄3 cup raisins, coarsely chopped

1

egg, lightly beaten

3

garlic cloves, minced

2

tablespoons chopped fresh parsley

1

tablespoon chopped fresh cilantro

1

tablespoon chopped of fresh mint
1⁄4 teaspoon chili pepper flakes
salt & freshly ground black pepper

2

tablespoons olive oil, plus more
olive oil, for drizzling

1

teaspoon chopped parsley

Moroccan Yogurt Sauce (use 2 cups)

1

cup yogurt

1

cup cucumber, peeled, seeded and coarsely grated
1⁄4 cup mint, minced

3

tablespoons lemon zest, minced
kosher salt & freshly ground black pepper
In a small bowl, soak bread crumbs in milk. In a medium bowl, combine the lamb, almonds, soaked bread crumbs, onion, raisins, egg, garlic, parsley, cilantro, and chili pepper flakes. Season lightly with salt and pepper.
Drizzle olive oil onto a sheet pan you will place the meatballs on and rub oil into the palm of both hands.
Form meat mixture into meatballs 1/2-inch in diameter. The recipe makes about 30 golf ball-sized meatballs.
Heat oven to 400, place meatballs on a baking sheet and cook about 12 minutes until heated through.
Yogurt sauce:.
Place the yogurt in a sieve lined with cheesecloth. Allow to drain at least two hours to overnight.
Toss the cucumber in 2 teaspoons salt and place in a sieve to drain for at least two hours.
Combine in a medium bowl, the yogurt, cucumber, mint, and the preserved lemon. Season with salt and pepper.
Serve warm over couscous and drizzled with yogurt sauce and, parsley and sesame seeds.