Peter J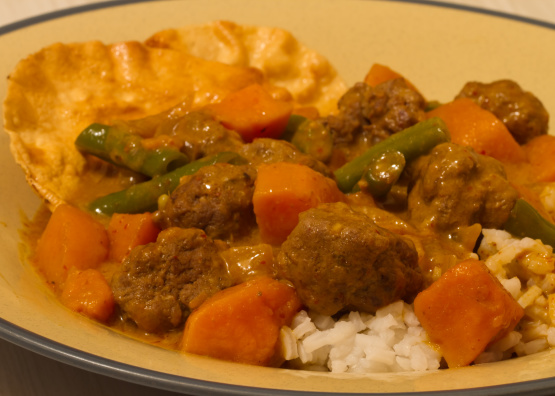 From Recipe+ and their mid week meal feature. They also suggested you could use balti or rogan josh curry paste instead of korma and use pumpkin in place of kumara/sweet potato. Serve with basmati rice and pappadums.

Yum! I used rogan josh curry paste and it was great served as suggested. Only change I made was to rest a little at the end uncovered but still on the hotplate just to let it thicken up and cool a a little while I prepared the pappadums and served. I'd never tried kumara in a curry before but it suited it really well and made a pleasant change from regular potoatoes.
Combine mince and garlic in a medium bowl and season with salt and pepper and mix well.
Roll level tablespoons of mince mixture into balls.
Heat oil in a large deep grying pan over high heat and add meatballs and cook and turn for about 5 minutes or until browned all over and remove from the pan.
Add onion to pan and cook and stir over moderate heat for 5 minutes or until soft and then add curry paste and cook and stir for 1 minute or until fragrant.
Stir in stock and coconut milk and bring to the boil and then add kumara and cover and cook over moderate heat for 10 minutes.
Return meatballs to pan and add beans and cook curry covered for 10-15 minutes or until kumara is tender and meatballs are cooked.
Spoon rice into shallow serving bowls and top with meatball curry and serve with the pappadums.