Lamb Loin Chops (For the Grill) With Cafe De Paris Butter
Jostlori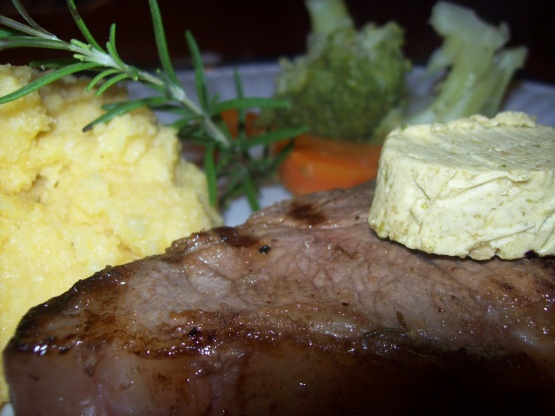 1 pic is supposed to be worth 1,000 words, but the pic attached to this recipe from the *Great Lamb* cookbook of the Australian Women's Weekly cookbook series spoke to me in only a few words. It said: "I'm gorgeous to look at, easy-to-fix & great to eat!" I can hardly wait to try this & was impatient to share it w/you. (NOTES - The Cafe De Paris butter should be made 1 day in advance & chilled overnite ... Time does not include chilling time or the 1 hr refrigeration for the chops ... See note at end of prep Re Nutritional Facts) *Enjoy*

This review is a total rant about the compound butter. It is to die for. We had it with loin chops last night. Intend to have it on the chicken tonight and will make more so that we can have it with fish tomorrow night and have some left over to see what it is like on veges. Absolutely fantastic - as the kids say " Yum, Yum, Pig's bum"
Blend or process all the Cafe De Paris butter ingredients till smooth. Refrigerate for 30 min to firm slightly.
Using plastic wrap as a guide, roll butter mixture into a smooth log shape, transfer to lightly oiled foil, re-wrap & refrigerate overnite.
1 hr prior to your mealtime, put lamb loin chops + 1/3 cup Worcestershire sauce in a plastic bag & shake to get good coverage of all the meat surfaces. Refrigerate for 1 hours.
Remove lamb loin chops from bag & cook on the grill till browned on both sides & cooked to desired doneness. Serve w/sliced chilled butter placed atop ea chop.
NOTE: The nutritional facts are askewed here because the system assumes the entire amt will be eaten in 4 servings -- BUT you will in fact have an excess of the butter part of the recipe for future use. :-).