JustJanS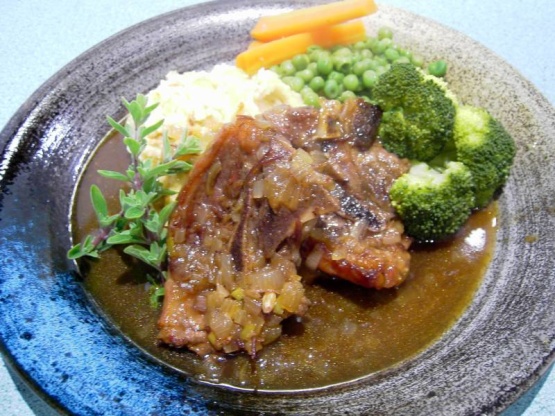 A nice warming dish for winter.

Top Review by Bergy
Jan Fabulous flavour! I took a couple of liberties with your recipe. I used a rack of lamb. Chopped up the onion and placed it on the bottom of the baking dish, spread out so the onions would catch all the glaze as it ran off the lamb, placed the lamb on top, Whipped the redcurrent jelly, lemon juice, zest, BBQ sauce & ketchup together (I did not use the chicken stock) and just before putting it in a 350F oven basted the lamb with the glaze. I basted it 3 times during the 35 minute cook time. It came out the most beautiful colour , pink inside and succulent. One thing I did was to remove the onions when they were carmelized before they became too dark and kept them warm.This is really tasty and I'll make it again & again Thanks Jan
Trim the meat of excess fat.
Grate 1 teaspoon of rind from the lemon and squeeze 4 teaspoons of juice.
Heat the oil in a large frying pan, and brown the chops well.
Place in an oven-proof dish.
Add the onion to the frying pan and cook over a medium heat for about 5 minutes or until softened.
Add the jelly, rind and juice, stock and sauces.
Stir until heated through then pour over the chops.
Bake, covered, for 1 hour in an oven set at 325f, turning a couple of times during cooking.
Remove the chops, and pour the sauce into a frying pan.
Boil rapidly until the sauce has reduced and thickened.
Return the chops to the sauce to serve.
This goes very well with mashed potatoes and a green vegetable.