Bergy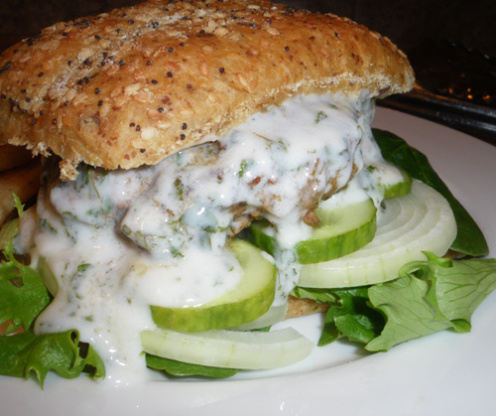 Delicately spiced morsels with a cooling yogurt dip - perfect party food. Serve with 1 cup plain yogurt mixed with 2 tbs chopped mint and salt and pepper to taste. Uncooked burgers can be frozen.

Very very good! I love lamb so this was great. I made mine full size, but they would be awesome appetizers I served them on a hearty whole grin wheat roll which I thought really made the burger even better. And I toasted it. No butter or oil, just lightly toasted. I did drain the yogurt as I made the burgers and added just a bit of lemon zest and a squeeze of lemon juice to the sauce which I thought was really good. For the burgers, I always add all the ingredients other than the meat first and mix well. Lamb especially can get very tough if over mixed. I did not deseed my pepper as my pepper was a bit mild and I wanted the heat (personal preference) I used the feta cubes as suggested, but I did cut mine smaller (since I did a full size burger) so I added a few more. They came out perfect. Mine took 12 minutes, but I cooked mine just a bit longer in the pan to get a good crust or sear on the burger. I garnished with very thin cucumber slices and very thin onion slices (got the idea from the pic) that I tossed with lemon juice, olive oil, s/p and dried oregano. They just marinated from the time I started the burger, nothing much. Then I also had some fresh baby spinach. So ... the excellent burgers. no changes. Just a little lemon to the sauce and then my garnish. A HIT and will make over and over and party food would be great! Definitely not hard at all.
First make the dip by mixing together the yogurt and mint with a little seasoning, then chill until ready to serve.
Tip the lamb into a big bowl with the spices, chili, herbs, Worcestershire sauce and egg. Season, then get your hands in and mix well. Divide the mixture into 16.
Shape into burgers, pushing a cube of cheese into the centre of each and sealing inches Chill until just before your guests arrive.
Heat oven to 400F and heat the oil in a frying pan.
Fry the burgers for 1-2 mins until brown on each side, then transfer to a baking tray. Put in the oven for 15-20 mins until cooked through and piping hot.
Pile onto a big plate and serve with the dip on the side.