Geema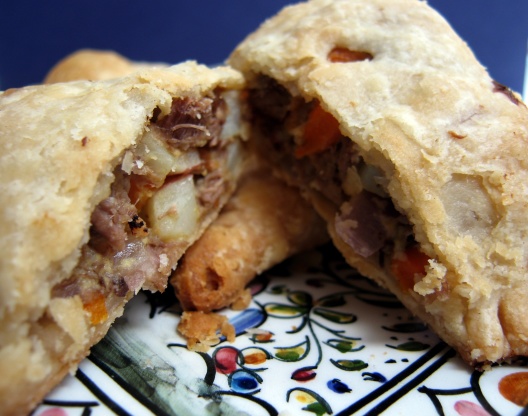 Delicious and satisfying meat pies. Easy to make.

Thanks for a really great recipe! Made these for Sunday lunch using 500 gr of last night's leftover lamb roast, shredded in the food processor. Added 1C onion gravy, 1C mashed potatoes and 1C mashed turnips-- with a little curry powder for flavour. I cut each puff pastry sheet into 4 squares, folding the square into a triangle over 1 heaped Tbsp of filling. Used egg wash and baked for 25 min on 200C f/forced. This made 16 empanadas with enough filling left to freeze for another batch. I popped the 12 we didn't eat in the freezer on the baking tray and will transfer them to a ziploc bag when they are solid. Should be great to take to work for lunch!
Thaw pastry at room temperature.
Cut the lamb into very small cubes.
Peel and chop the onion, potato, carrots and turnip into very small pieces.
Place in bowl and season with salt and pepper.
Preheat oven to 400°F
Separate pastry sheets.
Using a 5.5" saucer, cut out pastry rounds.
Place a heaping teaspoon of meat and vegetable mixture in the middle of a pastry round.
Dip pastry brush in water and moisten edge of pastry round. Pull up two sides of pastry to top and seal by pinching pastry together across the top.
Place completed pasty on a baking tray lined with baking paper.
Repeat with the remaining ingredients to make 10 empanadas.
Bake in oven for 15-20 minutes. Remove from tray using spatula.