Lamb Chops With Jalapeno Mint Sauce
JustJanS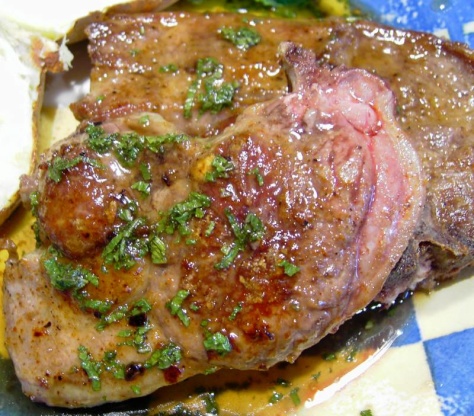 These make a perfect weeknight meal- fast, flavorful, and easy. For a little less spiciness and a bit sweetwe flavor, substitute seedless raspberry jelly for the jelepeno jelly.

I was going to post this exact recipe! I got it out of the Cuisine at Home magazine.... and it is oh so good. I always make it with the rasberry jelly. Don't fret if you're not a mint fan. You can either leave it out or cut the amount in half. I also like alot of sauce so I make this recipe with the same amounts, but for 2 chops. Extra sauce goes great on some red potatoes as a side dish!
Trim fat from chops, so they will cook evenly and don't curl, combine flour and steak seasoning; dredge both sided of each chop in flour mixture.
Heat oil in a saute pan over medium high heat; add chops; sear 5 minutes per side for medium-rare (adjust cooking for desired doneness), remove chops from pan and keep warm.
Add broth to pan, scraping up any brown bits,; stir in jelly and jalapeno; bring to a boil, stirring until jelly melts, reduce heat and simmer for 3 minutes, turn off heat and stir in mint.
To serve driizzle 3 tablespoons sauce over each chop, enjoy.