Lamb Chops and Potatoes With Olives, Tomatoes and Feta Cheese
GaylaJ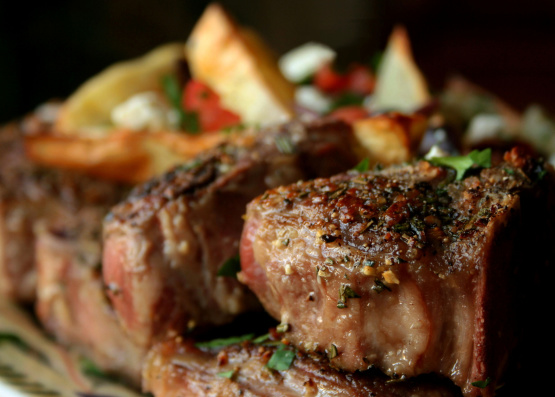 A wonderful dish--simple, delicious comfort food. I seared the lamb chops in a hot skillet coated with a little olive oil before adding them to the potatoes in the oven (reducing roasting time accordingly) and scattered chopped flat-leaf parsley along with the olives, tomatoes and feta to add some color. Recipe adapted from Bon Appétit.

I love lamb chops and I am always looking for new ways to prepare them. I really loved these and the potatoes were the perfect accompaniment to have with them. My chops were on the rare side, and I love them that way. This is a good recipe that is easy to prepare and delicious! Thank you!
Preheat oven to 450°F.
Toss together potatoes, oil and half of rosemary on a large rimmed baking sheet; sprinkle with salt and pepper.
Roast until potatoes are almost tender, about 30 minutes.
Meanwhile, press garlic and remaining rosemary onto both sides of the lamb chops; sprinkle with salt and pepper.
Arrange lamb on baking sheet next to potatoes; roast until potatoes are tender and lamb is cooked to desired doneness, about 18 minutes for medium-rare.
Mound potatoes in center of platter and surround with lamb chops. Sprinkle with tomatoes, cheese and olives.