Lamb Chop Lancashire Hot Pot
robd16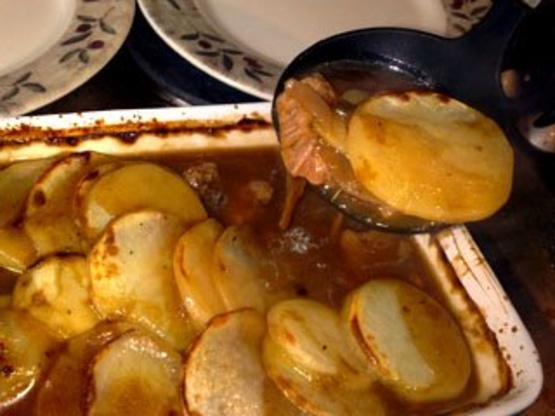 This is the traditional Hot Pot recipe from the north of England and is best enjoyed on cold evenings when we want something to warm us up. On first glance it may look bland but trust me, its a comforting satisfying dish, simplicity is its charm. Do not be tempted to add anything to it whatsoever, not even a bay leaf! With the exception of perhaps chopped oysters, a traditional ingredient which is generally no longer used, this dish needs nothing more than the ingredients stated. The mushrooms and kidneys are optional as they're not to everyone's taste and regional variations of the recipe allow for this but I would recommend using 1 or the other, you could use 2 lamb chops chopped up in place of the kidneys if you wish. Do not forget to season between layers!

This was a really great recipe. Nice and simple with delicious results. One that is going into my regular monthly batch of recipes! Thanks robd16
Preheat the oven to 160°C.
Peel the potatoes and cut into medium/thin discs.
Chop the onions any way you like.
In a large ovenproof casserole dish, layer half the potatoes on the bottom, season with salt and plenty of pepper.
Now layer half the onions and all of the mushrooms and season again.
In a frying pan melt the butter over a high heat and once sizzling add the lamb chops to quickly brown on both sides then add them to the casserole.
Season again with the salt and plenty of pepper and put the chopped kidney's if using along with the rest of the onions over the chops, season, and finally a last thick layer with the rest of the potatoes. Season again.
Pour over the stock, you only want enough to come just below the last layer of potatoes.
Cover with a lid or use foil and bake for around 2 hours.
Remove the lid and return to the oven until the top is browned, around another half hour making sure there is just enough liquid so that the Hot pot does not completely dry out but being careful not to water log.
MMMMM! Meltingly tender!