Lamb Burger Middle Eastern Style
Bergy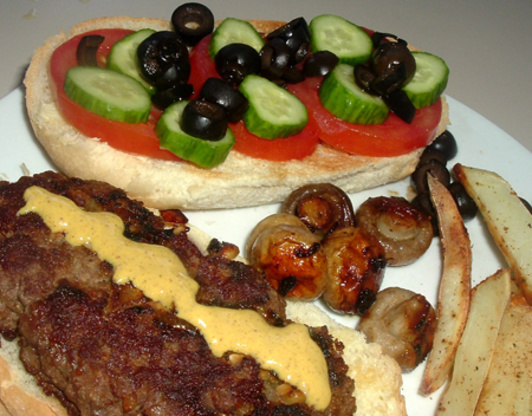 I love lamb burgers and I found this one in a Canadian Living magazine. I have tweaked the recipe. Original recipe suggested grilled eggplant to top the burger or you may enjoy grilled zucchini - I am not fond of either I like my tomato on top and mushrooms on the side with any burger. You may substitute Hummus for the yogurt topping. You can make these patties ahead store in the fridge tightly covered or wrap well and freeze them for up to a month.

I love lamb burgers and typically make them in a middle eastern style. What intrigued me about this recipe was the pine nuts. That being said, this recipe was good, not great. I did not like the dill in this recipe. It over pwered other flavors. Also, this recipe had soooo many spices, and ketchup, etc., that you really lost the naturally spicy flavor of the lamb. The pine nuts were a great addition though. I loved what it did for the texture. I am going to add this to my favorite lamb burger recipe and see what happens. Thanks for posting the recipe and thanks for the pine nut idea.
Beat the egg, add ketchup, beat more to completely blend.
Stir in the onion, crumbs, dill, parsley, garlic, pine nuts, salt pepper, paprika & cayenne.
Add the lamb and mix well (use your hands for easy mixing).
Form 3 or 4 patties.
Either BBQ or pan fry. Internal temperature should read 160°F.
If pan frying brown one side of the patties over high heat, flip, cover with a lid, lower heat to medium and cook the other side,.
If you are serving mushrooms add them to the pan when you flip the burger and cover the pan - they will be beautifully browned.
Top the burger with yogurt and any condiments you like--tomatoes, pickles, pickled peppers, eggplant, hummus--your choice.