PaulaG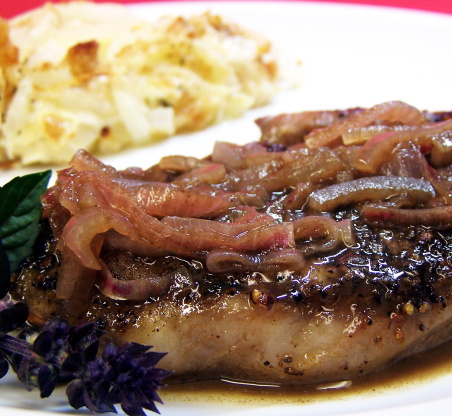 An easy and elegant way to prepare lamb chops. A little cognac added to the sauce adds a nice flavor. From Bon Appetit.

DH and I made these lamb chops a couple of nights ago. They are very easy to prepare with ingredients I commonly have on hand. We used olive oil instead of vegetable oil and I used cognac. We both thought the chops were nice, but a little plain. Maybe a little herb such as rosemary thrown in might be give it some more flavor. Thanks! Made for ZWT5.
Coarsely crush peppercorns with a mortar and pestle or wrap in a kitchen towel and press on peppercorns with bottom of a heavy skillet.
Pat chops dry and season with salt. Rub one side of each chop with peppercorns, pressing peppercorns into meat to adhere.
Heat oil in a 12-inch heavy skillet over moderately high heat until hot but not smoking, then cook chops, peppered sides up, 2 minutes. Turn chops over with tongs and cook, pressing down on each chop with side of tongs to help pepper adhere to meat, about 2 minutes more (for medium-rare). Transfer chops with tongs to a plate and let stand while making sauce.
Pour off all but 2 teaspoons of fat from skillet if necessary, then sauté shallot, stirring, until golden brown, about 30 seconds. Add broth and Cognac and boil until reduced to about 1/4 cup, 2 to 3 minutes. Remove skillet from heat and swirl in butter. Add any meat juices that have accumulated on plate and season with salt. Serve sauce over lamb.