Lamb and White Bean Casserole
JustJanS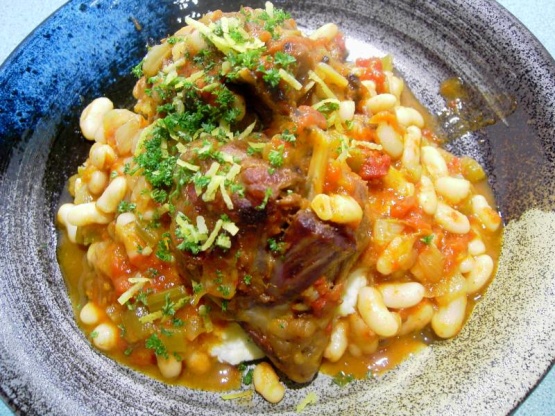 These were very good thanks. They needed all of 2 hours in the oven to get to the falling-off-the-bone stage I like my shanks at. A small problem-thyme is mentioned in method, but not in ingredients. Loved the lemon and parsley to finish. We ate these over evewitch's Dill-sour Cream Mashed Potatoes for a hearty meal last night.
Preheat oven 350 degree F.
Coat lamb shanks with flour.
Add lamb shanks to a big casserole pan coated with vegetable oil.
Cook lamb shanks on all sides.
Transfer shanks to bowl.
In drippings from casserole pan, cook celery and onion over medium heat until well browned.
Return shanks to casserole pan and add stewed tomatoes, beef beef broth, garlic, bay leaf, thyme, salt and pepper.
Heat to boiling over high heat.
Cover casserole pan and bake for 1 hour and 30 minutes or until lamb shanks are tender, turning meat once.
When lamb shanks are done, skim fat from liquid. Stir in white beans; heat through.
Sprinkle with parsley and lemon peel and serve.