chia2160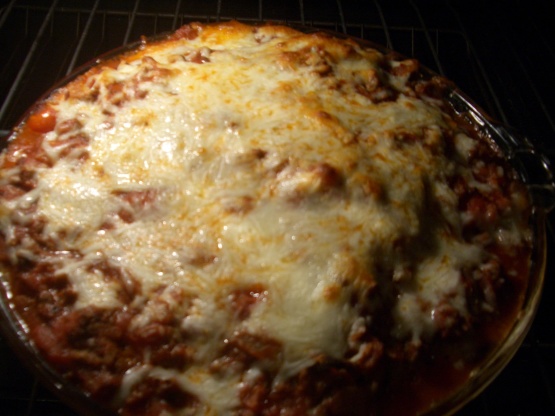 Comfort food, Italian-style: using canned tomatoes and store bought polenta. Recipe comes from Gourmet Magazine.

i loved this easy version of lasagna! i added some oregano and basil to the tomatoes and a bay leaf which i removed prior to assembly. i used mozzarella chesse and grated some parmesan over the top as well. this made 1 full pie plate, and was perfect for 3 of us, though it would feed 4.
Put oven rack in middle position and preheat oven to 400°F.
Drain 1 can tomatoes, reserving juice, then break up tomatoes into 1/2-inch pieces with a spoon if necessary; puree the second can of tomatoes,including juice and reserved juice (from other can), 1/4 teaspoon salt and 1/8 teaspoon allspice in a blender OR use hand blender, until smooth.
Transfer tomato puree to a 2-quart heavy saucepan and boil uncovered, stirring occasionally, until reduced to about 1/2 cup, about 20 minutes, remove from heat.
Heat a dry 12-inch heavy skillet over moderate heat until hot, then brown lamb with 1/2 teaspoon salt and 1/4 teaspoon black pepper, and remaining 1/2 teaspoon allspice, stirring and breaking up lumps (but leaving meat slightly chunky), about 5 minutes; add drained tomatoes and cook, stirring occasionally, until juices are absorbed, about 1 minute.
Cut polenta into 1/4-inch-thick slices with a sharp knife and cover bottom of a 9-inch glass pie plate with half of polenta slices (overlapping slightly); scatter half of lamb mixture over polenta, then top with half of mozzarella, then remaining polenta; scatter remaining lamb on top and spread tomato sauce over meat, then top with remaining mozzarella.
Bake, uncovered, until bubbling and beginning to brown, about 20 minutes; let stand, loosely covered with foil, 15 minutes before serving, Enjoy.